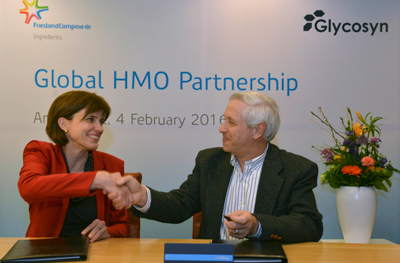 This year saw a breakthrough in the commercial application of Human Milk Oligosaccharides (HMOs) in infant formula. Several companies announced they will launch products containing HMOs.
HMOs are specialised carbohydrates which are naturally prevalent in mother's milk. Much research has been done to ascertain their effects on growth and development of babies, to boost the development of 'next generation' infant nutrition.
In the past year,
Friesland Campina partnered with US-based Glycosyn to develop such new infant nutrition ingredients. The first trials with new products are in progress. Furthermore, DuPont Nutrition & Health announced a j
oint development and licensing agreement for exclusive rights to selected fucosylated HMOs, including 2'-fucosyllactose, with Inbiose, a Belgium-based producer of specialty carbohydrates. And the infant formula brand
Similac launched two products with HMO's, Pro-Advance™ and Similac Pro-Sensitive™, containing 2'-fucosyllactose (Abbott Nutrition and Jennewein).
These new products emphasize the importance of research into the effects of specific carbohydrates on nutrition and health, something which is of course central to the CCC mission!