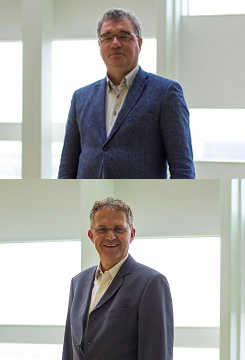 CCC is happy to announce that Henk Schols and Willie van den Broek of Wageningen University and Research Center (WUR) have joined the management team. From the start onwards, CCC has been managed by RUG and WUR representatives, but after the stepping back of Fons Voragen (WUR) it took some time to make all the necessary arrangements. In this newsletter Henk and Willie will be introduced shortly. For older CCC-members Henk Schols is quite familiar because….
he has been active in CCC from the beginning and participated as researcher in CCC1 and CCC2, then in CarboHealth and CarboKinetics. Henk Schols is currently personal professor Food Carbohydrate Biochemistry at Wageningen University. He has extended expertise on plant cell wall polysaccharides, their chemical fine structure analysis and changes herein during ripening, storage and processing of fruit, vegetables and cereals. Furthermore, food hydrocolloids as xanthan, pectin and modified starches have been studied for the distribution of their functional groups over the polymeric backbone using enzymatic fingerprinting approaches and structural analysis and quantification of diagnostic oligomers released. During the last years, his research includes the health beneficial effects of dietary fibers and prebiotics as present in food and feed products. The fate and metabolisation of dietary fiber, prebiotics and Human Milk Oligosaccharides in the human colon is being studied in order to understand their biological relevance in more detail. State-of-the-art chromatographic and mass spectrometric approaches to identify novel mammal milk oligosaccharides and glycosidic metabolisation products have his special interest.
With his expertise and network it's obvious that Henk Schols will contribute a lot to the further development of CCC in exploring new fields of research together with the CCC-partners, and in managing new programs.
Willie van den Broek got his PhD in Analytical Chemistry at Radboud University and has been employed at WUR since 2010. Working as a Program & Innovation manager since 2016, his role is to support business innovation via agenda setting, consortium building, program development and management. As program manager he is responsible to convert ideas into opportunities and convert opportunities into contracts. He gained experience in commercial projects for large companies, in non-commercial projects or programmes that originate from the Ministry of Agriculture, Food Safety Authority, Development Cooperation or EU consortia. He has international experience through the management of 'Metropolitan Food Cluster' projects in particular in South Africa, Egypt, Mexico and China.
With Willies' expertise and his large business network CCC is equipped very well to tackle new research challenges by building new consortia and developing new programs for the coming years.