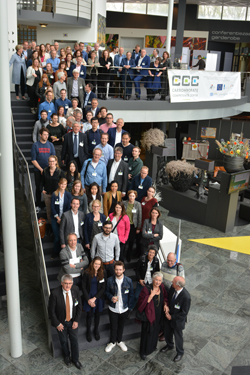 More than 120 participants from business partners, knowledge institutes and related organisations witnessed the battle of the best pitch (winner Bianca Martens, WUR) and the best poster (winner Madelon Logtenberg, WUR), listened to the three keynote speakers, two of which – Leila lo Leggio University of Kopenhagen and Frank van Noord R&D SuikerUnie – are given the floor again in this edition.
The CCC Open day was also the moment the CCC community said goodbye to Rudy Rabbinge, who stepped back as Chairman of the Supervisory Board. The CCC Management team is very grateful to Rudy for all he has done for CCC over the last ten years.
The CCC Open Day also witnessed the release of More with Less, Welcome to the Precision Economy, in which the authors describe new developments in nano and micro science as road to a sustainable society. The first copy was presented to Rudy Rabbinge by Alle Bruggink, one of the authors.
Last but not least, a full report and videos of the Open Day will soon be available on the website!