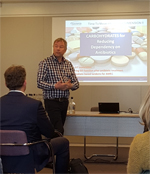 On 14 February, a matchmaking event was organized for the NWO-CCC Partnership program 'CarboBiotics: Pre/Probiotics Mitigating the Antibiotics Burden'. More than 40 scientists from different universities and knowledge institutes in The Netherlands responded to the invitation by Prof Lubbert Dijkhuizen (scientific director of the Carbohydrate Competence Centre) and the NWO-representative Martijn Los and joined the matchmaking event.
All three industrial partners (Nutrition Sciences, AVEBE, FrieslandCampina), who are financing half of the EUR2.25 million research budget, presented their interest in the Program and informed the scientists about their ambitions in relations to the CarboBiotics topic. This should inspire the researchers to compose a project-proposal with an optimal fit to the program, increasing the chances for approval. The review procedure will follow the standard guidelines of NWO, extended with a review and ranking by a jury of international experts and the industrial partners.
After the presentations by the industrial partners, NWO and CCC (to explain the procedure in detail) lively discussions arose between the scientists and the industry-representatives to exchange project-ideas and to arrange bilateral meetings to optimise the writing of the preproposals.
The deadline for preproposals is April 6th. Preproposals will be reviewed by the jury of international experts and the industrial partners, ranked, and the scientists who submitted the best preproposals will be invited to write a full proposal (deadline 6th of July).
Further details on the call for proposals can be found on the
NWO website.