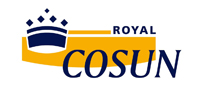 Royal Cosun is an agro-industrial cooperative that manufactures ingredients for food, non-food applications and the chemical industry from vegetable raw materials. Innovation is important, for even a product as well-known as sucrose can be turned into something new.
Ir. Alex Benschop, Business Development Manager Biobased Products at Cosun, worked with Wageningen University and Research on a CCC project to create high-end plastics from sugar beet pectin. 'We started with modification of galacturonic acid, a building block of pectin. We created polymers from the resulting building block, that generated some very good polyesters and polyamides, with properties quite similar to plastics made from oil.' This was not a typical project for Cosun. 'It was more or less exploratory research, and we tend to be more product-oriented', says Benschop.
Cosun has four main growth areas: plant proteins (for food and feed), health promoting ingredients, functional biopolymers and non-food products like the plastics, or drilling starch for the oil industry. Innovation is crucial to the development of these areas. That's why cooperation with CCC is valuable.
'One of our subsidiaries Sensus produces inulin from the natural chicory plant source as a fiber for food', explains Benschop. Inulin is so versatile, it can have sweetening properties and be used to replace sugar or fat in food. Through a CCC project, inulin's digestive and immune health benefits are studied in humans; this will support the development of health claims in the strict European system.
Combining the curiosity of academics and the more product-oriented approach of Cosun works well, says Benschop. 'The ideas that are developed inside the CCC open up new ways to innovate products. We really like to be part of such projects.' The CCC project to develop new polymers led to a follow up project called Beets to Biopolymers. In this project even better polymers have been developed and scaled up in quantity for application development. The partners in this project include Universities like RUG and also an end user that will ultimately use the new polymers in its products..'
More information:
http://www.cosun.com/,
http://www.cosunbiobased.com/